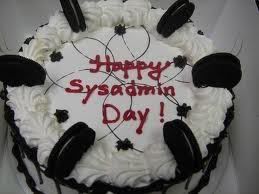 Call them what you will: network administrators, computer guys, I.T. consultants, magicians – we are the men and women who keep your computers and networks up and running.  We make sure you and your coworkers can access critical company data.  We keep your websites running.  We make sure you can send and receive email.  We make sure you can get to your favorite websites.  And yes, we make sure that you can get on Youtube to watch "Charlie Bit My Finger".
We enjoy what we do.  We enjoy being on-call 24 hours a day, 7 days a week.  We enjoy getting calls at home during dinner with reports that the network is down.  We especially enjoy taking those calls while we're on vacation with our family.  All cynicism aside, we really and truly do enjoy what we do.
Our position is so critical to companies worldwide that back in 2000, the aptly-named System Administrator Appreciation Day was first announced, and it is held annually on the last Friday in July.  So you missed it this year, but it's never too late to send your beloved computer and network support staff a thank you card.  =)
SAVE THE DATE: July 27, 2012 – Happy SysAdmin Day!
Isaac Grover is the senior I.T. consultant at Quality Computer Services.  When he's not enveloped in technology, he enjoys being with his family and being involved in the community.